Splendid Fortune



Other Names

Jasmine Ghost

Twitter

Species

Unicorn

Gender

Female/Mare

Coat

Pale Lavender

Mane

Black and Green

Eye color

Emerald

Cutie Mark

Wheel of Fortune with a spirit orb

Timezone

GMT+7
Splendid Fortune is an unicorn mare who (other pony said) has a colt name. Also known as Jasmine Ghost. She was newly arrived to Ponyville. She was born from a military family in Shorebay. Her trademark skill is sixth sense and stealth. Her main job is guiding spirits of the dead to the another side.
Personality
She is cold. But actually she's just shy, she had a difficulty for making friends because she gets bullied at her fillyhood. Everypony thought she is a tomboy at first, but later reveals she's 'balanced'; not a tomboy and not a girly mare. Splendid's really cute and sweet inside, and silently she enjoys if somepony played with her mane. Other than sixth sense, she has photographic memory so when other ponies don't remember something, she remembered!
Splendid have a haunting aura and she oftenly scares fillies, colts or/and animals with it. She said "This can be a blessing, and a curse." because she finds this makes her harder to make friends.
Her hobby is drawing & writing stories. Other than that, she oftenly trots to everywhere and having nostalgic daydreams.
Background
To be added.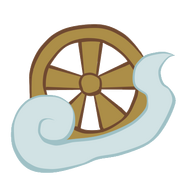 Skills
Sixth sense (interacting with creatures/ponies from the other world)
Seer (predicting the future)
Aura reading
Fast book reader
A fast runner and avoiding obstacles while running, but still, far from Rainbow Dash.
Stealth, example : stole a cake from a party without anypony noticing
Can make her eyes glow in the dark
Photographic memory
Likes & Dislikes
Her favorite food is green tea cake, and her favorite drink is mocca milk.
She has a grey cat named Ophelia.
She is the kind of a tsundere mare.
She dislikes bugs.
Player Notes
She wasn't always Splendid. Her first manestyle is different than now. And her eyes is first supposed to be mahogany, before fixed to be emerald.