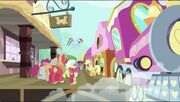 All you have to do is take a cup of flower, add it to the mix...

This page is a candidate for merging with Ponyville.
Located just outside of Ponyville and departs on a schedule to other cities around Equestra.
Train Schedule
A morning, afternoon and a late night arrival and departure to:
As well as connections to other locations including to:
Interior and Exterior
The Train Station includes an outside office window to purchase and reserve your tickets, a lobby with a sitting area with a small snack bar, a public uni-pony wash room. By the inside office window in the lobby there are a few secure lockers a pony can rent to temporarily hold small belongings. There is also a courtesy depot to rent carriages to pull extra loads of baggage.
Ad blocker interference detected!
Wikia is a free-to-use site that makes money from advertising. We have a modified experience for viewers using ad blockers

Wikia is not accessible if you've made further modifications. Remove the custom ad blocker rule(s) and the page will load as expected.