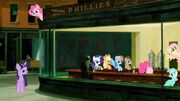 Nighthawks is the dusk-'til-dawn coffeeshop run by Mocha Foam . Although the house specialty is "java juice" (and particularly Mocha's infamous Salted Caramel Mocha), they also serve hot chocolate, spiced cider, and a variety of other drinks and light café fare.
Nighthawks is also notable for its relaxed, almost hypnotic atmosphere, largely an effect of its warm, dark lighting and Mocha's choice of jazz music playing from the jukebox. Mocha likes to describe the shop as being a place where "even the air is full of poetry."
Ad blocker interference detected!
Wikia is a free-to-use site that makes money from advertising. We have a modified experience for viewers using ad blockers

Wikia is not accessible if you've made further modifications. Remove the custom ad blocker rule(s) and the page will load as expected.