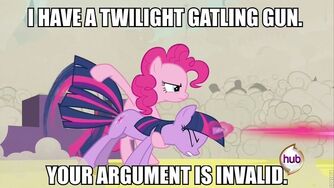 So, at my college, we got this thing called "Gotcha Week", in which you take a nerf gun, get a target, and hunt 'em down.
Seeing that I've yet to do anything for the RP, I've decided to make a "Gotcha Week" for the RP, but instead of using nerf guns, you use tag, or the always entertaining, marshmallows!
How it works
So, basically, you'll sign up a week or so before GW starts, and through a random process of DM's and selection, you'll get your "Target" the day before it starts. If you tag your target, you get their target, and they're out. And then you just continue tagging your targets (Or getting tagged yourself) until only two ponies remain, to where a "Tag Showdown" will happen. Last pony to not be tagged is the winner... Obviously. I'm basically putting this onto the wiki, ya know, for some friendly competition.
Rules
1. All tags must be made outdoors, whether in trees, the sky, the lake, wherever. No tagging indoors.
2. If you tag the pony who is trying to tag you? You're safe for 24 hours.
3. No magic allowed, this is based on skill of the tag.
4. No teaming up, this is about a pony making it on their own, what fair would it be if they go cornered just so somepony else could get their tag?
5. "Pinkie"-esque disguises allowed, within reason, of course. (Hay bales, clouds, bushes, etc.)
What do ya win?
Bragging rights, and if we can get it lined up, maybe something nice from around town.
Date
I'll try and make it to where everyone can participate, but no promises.
Who to contact
Right now, just me, via DM or Mention. ( That being @mlp_VCorsair on the Twitterponies )
Ad blocker interference detected!
Wikia is a free-to-use site that makes money from advertising. We have a modified experience for viewers using ad blockers

Wikia is not accessible if you've made further modifications. Remove the custom ad blocker rule(s) and the page will load as expected.