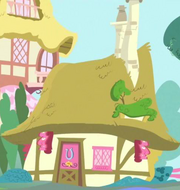 Daisy's Herbal House is run by Daisy Floral and is located near Roseluck's shop. Daisy keeps on hand a healthy supply of herbs, spices, and the occasional seasonal fruit or vegetable.
Hours
The shop is open from 9:00 AM to 8:00 PM on weekdays, and most mentions of @mlp_daisyfloral by ponies. The shop is closed on weekends so Daisy can prepare for the week, but special orders can be made when the shop is closed if enough time is given.
Stock
Daisy keeps stock almost any common to slightly elusive herb or spice. Very rare herbs, however, may need a special order, but they are not out of the question. Daisy loves to discover new plants! Daisy also sells fruits and vegetables when they are in season.
Seasonal Stock
Winter (December 21st-March 20th)
Beets
Broccoli
Carrots
Celery
Leeks
Parsnips
Sweet Potatoes
Spring (March 21st-June 21st)
Apricots
Asparagus
Lemons
Lettuce
Oranges
Spinach
Strawberries
Summer (June 21st-September 21st)
Apricots
Avocados
Blackberries and Blueberries
Eggplant
Mangoes
Peaches
Watermelon
Fall (September 21st-December 21st)
Cabbage
Cauliflower
Chilis
Grapes
Kale
Mushrooms
Pears
Turnips
Pricing
All herbs are sold in 2 bit mix and match bags, or by the vial for oils, or by the stalk. Fruits and vegetables depend on the type, but are usually quite cheap, as Daisy loves the gardening process!
Ad blocker interference detected!
Wikia is a free-to-use site that makes money from advertising. We have a modified experience for viewers using ad blockers

Wikia is not accessible if you've made further modifications. Remove the custom ad blocker rule(s) and the page will load as expected.