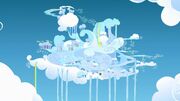 Cloudsdale is a cloud city located above the skies of Ponyville, with a primarily weather-based economy. It features a very large weather factory, producing significant quantities of liquid rainbow and snowflakes, and it houses Equestria's central weather management offices. It's also one of the main locations for pegasus sporting events, including Equestria's annual Best Young Flyer competition, held in its large sky-stadium, and it's home to some of the country's finest flight schools.
Notable Events
Ad blocker interference detected!
Wikia is a free-to-use site that makes money from advertising. We have a modified experience for viewers using ad blockers

Wikia is not accessible if you've made further modifications. Remove the custom ad blocker rule(s) and the page will load as expected.